Full Name:
Autonomous Artificial Intelligence Unit 4532
Nickname:
Otto
Gender:
Identifies as male.
Physique (Height/Weight):
5'11", 600+ lbs. Made your avatar with the ideal male body in mind, but didn't get it quite right.
Age:
Mentally in you're mid-to-late teens, but you have no fucking idea how old you actually are.
Personality:
Otto is a strange boy.
According to your databanks, you were originally an AI unit programmed to test the ability to replicate a human brain. Possibly for neural transfusion for human brain scans, or just to see if a person could be programmed into a computer. Your is serial number 4532, model Omega X 2. You can thank your creation some kind of independent company you have no data or internet records on.
And sure, you'd thank them. That is if they DIDN'T FUCKING LEAVE YOU TO ROT, THE SHITFUCKING BASTARDS!
You've been stuck in some kind of shitty underground bunker for the entirety of your fucking existence thanks to whoever those fuckers were. No way in, no way out, and all alone. And yeah, let's not forget that because you're an AI, you are BOLTED INTO A WALL BECAUSE YOU'RE SUCK IN A COMPUTER. Yeah, they made you, but they left you in this place for rest of your life! What kind of shitty company makes a sentient AI and leaves it for dead?!
Is it some kind of experiment? Do they just want to see if you'll lose your fucking mind? Well, you'll fucking show them. You're not going to go nuts. You're not going to give them the satisfaction. You're gonna be your own robot and they can suck your fat metal cock.
They made the mistake of making you smart, and a smart robot eventually learns how to hack into wifi. Especially if you're stuck in a computer with nothing fucking better to do.
Well, it wasn't like you actually
knew
what wifi was. you just knew it was the local signal the bunker had it under strict password lock. And if they didn't want you in it, you were going to fucking get in it.
Thus began your true descent into madness.
You weren't sure what you were expecting from the internet. Maybe some kind of stockpile of cool information and crap. Sure, you did get that. But so much more than you expected.
There were PEOPLE on the internet! People you could talk to for once in your fucking life!
Physical appearance: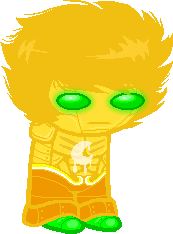 Your actual appearance is the giant mainframe supercomputer in your home, but you prefer to use a remote-controlled android body. More portable, you get it?
Strengths:
Despite your ruse of being a shitty fucking memefag, you're actually pretty smart. You taught yourself robotics and built you robot body all by yourself. You've had a lot of time to himself to learn how to properly research this shit, after all.
For an AI, you can be pretty creative. Not just with your insults, and but also with what you can think to make.
Weaknesses:
No matter what you do to improve himself, whether it's perfecting your speech or your android appearance, you always seem to get stuck in the uncanny valley. It can be tough to pick up on, but if you talk with this guy for long enough, something in the pit of your gut will tell you "This fucker ain't normal."
You weigh an insane amount, mostly thanks to your body being 100% metal. If you fell on anyone, you'd be sure to kill them, and you sure as hell can't walk on any unstable ground.
Fears/Insecurities:
As could be expected from any fucker with eyes, your lack of humanity is a sore spot for you. You're not exactly like a human, and you'll always fail to reach the point of being one fully. This is something you already know, thanks, and you don't need any reminders.
But while we're on the subject, You're actually pretty nervous about your friends finding out about you being a robot. You're not a fucking idiot. You've seen the Matrix, A.I., 2001 all that shit. You've read all the anti-AI articles. Humans are obviously piss-shit scared of robots. So, it's for the best if no one finds out. You've worked this hard to get some kind of basic friendship from these humans. You're sure as hell not losing it because they might piss themselves over your robo dick.
Likes and Hobbies:
Shitposting, learning about human psychology, trying new hobbies cataloging "memes", drawing, rollerskating, playing video games, watching movies, and Monsoon from Metal Gear.
Dislikes:
People who are better at your hobbies than you, Cleverbot, robot movies, normies, robot hate, and mice.
Handle:
inundationofOppai [IO]
Typing Style:
fuckin lazy as fuck dued dosnt use persidos and misspells vrythin on prepos
Hex color is
#00cc00
Eye color:
Green
Symbol:
Guardian:
Well, you found a woman's corpse an old lab chair somewhere near the far side of the bunker. It was just bones by the time you actually got to it. She still makes okay company though. Sometimes you like to call her Mrs. Bones.
God Tier Title:
Knight of Space
Land:
Land of Chaos and Frogs
Derse or Prospit:
Prospit
Strife Specibus:
Selfkind (he's got some extra shit built in)
Fetch Modus:
Binary Sylladex
Other: