Full name:
Erisdi Cordia
Gender:
Female
Height and weight:
5'5 136 lb
Age:
7.8 sweeps
Physical Appearance:
This lemon blooded troll has long curly hair, impossible to tame with even the most wildest of conditioners. Erisdi's right horn (her right that is) leans slightly towards her left one and wraps around the upper portion of it. She wears a black hooded jacket (which is yellow on the inside) with a small version of her symbol in her right breast area (again, her right). Her symbol is also present (and much larger) underneath her jacket on a strapless black top. Erisdi sports a knee length grey skirt and grey shoes with yellow highlights. She also seems to wear a bit to much black lipstick and eyeliner but insists its completely natural when questioned.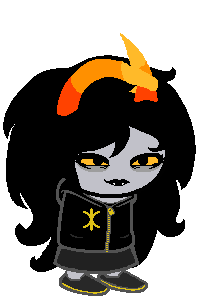 Personality:
Personality wise, she can be considered
slightly
crazy. She has a tendency to steal and hoard valuables from others (mostly anything shiny and gold due to her obsession with golden things).Erisdi is convinced she is the most beautiful troll in existence, being obsessed with her beauty. Though, in situations she can be neurotic, vulgar and overall unstable. She will often have mental breakdowns, and freak out at the most minor of issue's, entering a blind rage and destroying everything around her. She is known to have anger issue's and be a bit of a sassy bitch when provoked. Despite all this she cares way too much about anyone she's close to. Which can lead to her being a bit clingy at times. And all that anger doesn't mean she cant have a sense of humor.
fuck|n pun f|ght me scrub™
Handle:
anarchicPandemonium
Typing quirk:
Erisdi replaces her L's with |_'s and her I's with |'s. She uses slang, little punctuation, poor grammar and ends all her messages with a trademark symbol. She also curses causally and will use all caps when enraged.
For example:
AP: got any more br|ght |deas gen|us?™
AP: dea|_ w|th |t b|tches™
AP: ARGH! FOR THE |_AST T|ME |M NOT ANGRY! LAY OFF IDIOT!™
Blood:
Lemon (EBCD00)
Symbol:
Lusus:
A large bear-like creature. Aka BearMom.
Strengths:
When enraged is capable of high amounts of strength, very confident appearance-wise, slight psionics (not used often and not nearly as strong as sollux's).
Weaknesses:
Horrible with social skills, extreme anger issue's, clingy, Can be egoistical and get cocky.
Fears/Insecurities:
That everyone she loves will leave her. Erisdi is also rather unsettled by dolls, mannequins, puppets, etc.
Likes:
Compliments, being respected, bad jokes/puns, Make-up and Gold. LOTS of gold.
Dislikes:
Anyone who thinks they're better than her, insults regarding her appearance, being told to calm down and being wrong.
Hobbies:
Gaming and collecting... pretty much anything. She's a hoarder as mentioned before. She occasionally role-plays (she wont admit she's horrible at it though).
God Tier Title:
Thief Of Rage
Land:
Land of Laughter and Surprise
Derse or Prospit:
Prospit
Strife Specibus:
MaceKind
Describe your character in three words:
Egoistical, Vulgar (and) mischievous
If your character were stranded on an island and could only bring two things with them, what would they be?:
 A fuck-ton of gold and a Chain Mace
If your character could change anything about themselves, what would they change?:
AP: b|tch |m perf™
Probably make herself a more likable person.
Your character opens their fridge; what do they see?:
The hell is this? The hell is that? Is this moving?
Other:
~She's rather proud of her ancestor,
The Demented
.