Hey everyone, before I write this, I want to state that anyone is allowed to give constructive criticism - and I do mean anyone. Even if it's just as simple as "too overpowered/underpowered" or "I wouldn't want to play alongside them, they're too [insert quality here] and my character would clash with that really horribly", that's great; I'm looking for whatever advice I can get, and I really want this character to be fun and helpful to my teammates when the time comes. BUT, I am not changing things like the fact she is autistic, nb, or a lesbian, because those are all things that apply to me, and it's important to me to be able to express those in a character without it becoming a joke. Thank you for checking out my character!
Full Name:
Alex Fisher
Gender:
Genderfluid (wears color-coded bracelets so her friends know which pronouns to use - red for she/her, green for they/them; usually fluctuates between female and agender, so they would suggest for people to use either she/her or they/them pronouns if they can't ask or see the bracelets. (as such, because I'm bad at consistency, I will probably fluctuate between them throughout this post.))
Physique (Height/Weight):
5'10", 182 lbs. They have a pear-shaped build, and are endomorphic.
Age:
15 years old
Personality:
Curious and energetic, Alex devotes most of her time to learning about and interacting with her Land and all it has to offer. They are more likely to try and befriend Consorts than fight enemies, but if said Consorts are put in danger by the enemies, she will try her best to get around her fears and fight for them - which will likely take some serious pep talks from her fellow players, and a lot of determination, but with work she can still hold her own. Despite her understandable fears of enemies out to kill her, she has a habit of getting herself in dangerous situations, such as literally falling in the middle of a toxic garden. Luckily, she's clever enough to get herself out of those situations without having to call in help from other players. However, that's usually based on a lot of luck, and she'll probably have to ask for help anyway. She aids the team by helping others through their internal struggles, giving them whatever advice and reassurance she can, and when that doesn't work, she does her best to help them directly, whether that means somehow making it to their planet and fighting alongside them or confronting them to stop heartbreak in the making. As a Page, she is often taken advantage of, but although she isn't quite happy about her role, she still tries to stay positive and help her teammates. However, she will likely cling to one or two people more than others, and act more drastically to help them - and, in turn, will actively deter things she doesn't like from players who might harm the people she loves. She is very open about the things she likes, unless she thinks somebody will look down on her for it. She is equally open about her identity, and in this matter, she doesn't let anyone else make her feel bad about it. She came out as a lesbian fairly early in her childhood, and her genderqueer identity became clear soon after; if anyone tries to use autism as an insult or degradation, she will not hold back in letting them know
exactly
what's wrong with that and that they better step up their act or get stepped on. Unfortunately, she very rarely musters the courage to actually fill those threats - but in recent years, she's grown to take the route of education instead of intimidation, and just explains as calmly as possible so she doesn't have to slap people.
Physical appearance:
They have dark brown hair, almost black, which is cut short and curls inward around their face. Their skin is a medium brown color, and the fact that they work in the garden a lot and get a lot of sun adds more depth to this color. What the picture does not cover is that they are notably overweight, bordering on obese, but they are perfectly happy with their body and have learned how to maintain this weight in a healthy way. Before the game, their most common outfit was generally the ghost t-shirt and one of many pairs of worn-out, hand-me-down jeans from the eighties. They especially loved the nice, soft acid washed ones, fashion issues aside. Also inaccurate to the picture, I intend to use a redesign of the Page outfit, because I don't think she'd like the canon one at all and honestly, I'm not the biggest fan either. I will keep it reasonable, though, and if you have any advice for that, I would greatly appreciate it - although, I will probably be using the redesigns by Loudst on deviantArt and the canon designs as the main two points of inspiration.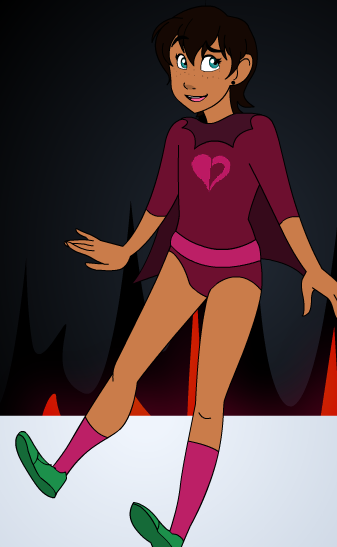 (created with SaraSapphire89 on deviantArt's dress up game because I am Lazy™)
Strengths:
They are great at puzzles and even better at working words to their advantage, whether that be for a song, an insult, or echolalia stimming. They can recite facts about their SIs at a moment's notice, and uses them to gain a strategic advantage over her part of the game (and anyone who asks her for help in figuring out theirs). She always tries to be a beacon of positivity, even if she doesn't feel it as much herself, and uses her gifts in speaking to aid that. She will always have a complement ready for every situation, and actively strives to find the light in every situation, no matter how dark. Given the reason, she could probably even find something nice to say about Jack Noir, although she would directly follow it with shade. She prefers to make new allies than enemies, and does her best to help everybody feel confident, powerful, and loved. Her good relationship with her Consorts may eventually end in her rallying them together as an army, fighting not as a single unit, but thousands of individual spirits and identities all wishing together for a common goal. She believes that no matter how small somebody thinks they are, they can grow stronger if they believe in themself, and sometimes, they just need a little help and support to tap into that power. She will tirelessly defend others, especially if their problems have to do with internal struggle, and will do everything she can to help them through, even if it jeopardizes her own emotional and/or mental well-being.
Weaknesses:
As stated before, doesn't like having to fight, and will procrastinate that in favor of investigating the Land and game mechanics. Often sacrifices functionality for ease and appearance. Usually over- or under-prepares, and has a tendency to get wrapped up in guilt over things, so much so that it becomes detrimental to the team. It's very easy to psyche her out about things; any manipulative players, whether human or troll, would have an absolute field day messing with her head. However, there are some beliefs she refuses to let slip, and trying to take them away from her will earn you a spot on her list of personal antagonists easier than just about anything else non-lethal.
Fears/Insecurities:
Has a tendency to find things that others would call "cringy" or maybe problematic genuinely entertaining, and instead of expressing her love for them and just ignoring others' opinions or leaving them behind in favor of more "reasonable" interests, bottles it up and tries to keep it a secret, even to herself, until she forgets. This doesn't usually work, but she follows this vehemently, and, because she has considered other options already and not been able to stick to either or them, often refuses to take advice on the subject. She can ignore insults about the way she looks, her sexuality (she is a nonbinary lesbian), her gender, or how her brain works differently, because she knows she can't change those things. However, she believes that the things she enjoys, even if they are SIs and she cannot choose whether or not to be interesting in them, are always up to her discretion, and liking things that aren't "right" is her own fault. Additionally, she is almost always worried about not being able to trust her own perception of herself, and will therefore always take the opportunity to find out more things about who she is "supposed to" be. Part of her character arc is figuring out a sense of identity, and as part of that, growing into her powers as Page of Heart. She is unsure about her role in just about every group she's a part of, and worries that she is either not important enough or too unimportant, and she will fail the others and/or be forgotten; because of this, she always tries to talk to others openly, and impart whatever knowledge she might have, even if it's probably not important. As for more material fears... She is afraid of the dark, although the conditions there a little more complex than I can define right now; she also doesn't like stagnant silence, and the sight of blood can legitimately make her sick under the right conditions (which are much more lenient than those for darkness).
Likes and Hobbies:
Gardening, researching cryptids and other "fantasy" creatures, singing (it's their favorite way to stim), infodumping, writing songs (which she rarely ever finishes), and sketching.
Dislikes:
people who hurt others for things they can't control or she believes should be allowed to figure out their mistakes on their own; having to fight without a good reason, or just unnecessary cruelty in general; not knowing what others think of her; people who don't try to learn from their failures or shift the blame onto others; being forced to confront her own problems - or rather, taking her own advice to fix them; finding a new thing to enjoy and having to plan for it inevitably becoming "annoying" to most people later.
Handle:
punnyAesthete
Typing Style:
Overuses capitalization and punctuation, because, as she is autistic, she doesn't like not being able to express tone over text. Even if nobody responds the same way, she doesn't mind; at least they know what she means. Also, rather than using colons for emoticon eyes, she uses the equal sign, because it's "cuter".
Eye color:
Light teal (hex:
#93eac9
, rgb(147, 234, 201))
Symbol:
A smiling cartoon ghost with a big flower on its head.
Guardian:
"Sis" (Kara Fisher, 21 years old)
God Tier Title:
Page of Heart
Land:
LoHaG, Land of Harmony and Growth. (I'll write more about this below the Other section, because I put a lot of thought into this planet and I love to talk about it!)
Derse or Prospit:
Derse
Strife Specibus:
Spadekind (as in gardening spades, of course), but has an old Knifekind specibus from one of their old relatives, who, like Jake to Jade, spent countless hours telling them about his "daring exploits and adventures across the globe" - although now that he doesn't do that anymore, they can see clearly that the things he skipped over in those stories them were actually pretty awful. As in,
seriously condemnable,
especially for someone who loves animals and nature so much, and tries to be a pacifist. They don't even like looking at the Knifekind specibus anymore because of that, and only dare to use it if absolutely necessary, and even then, their team has to push them to do so. For most of the game, they will stick to the spades. If they are pushed to use knives, there will likely be negative consequences, but it's up to the players to make it worthwhile.
Fetch Modus:
Pictionary
Other:
Her powers involve aiding others in their searches of their identity or destiny. She will supply them with the determination they need, their "heart and soul" leading them to grow, and their "spirit" giving them the power to do so. She will begin the session very weak, but in the end, may be used as a trump card do to her long-awaited, incredible mastery over her power, and the new ways she's learned to use it. Upon going God Tier, she will also be gifted with the ability to essentially multiply herself, creating another version to reflect each of her insecurities and perspectives of herself, and they would each have a much smaller, but also very fitting and well-utilized power unique to themself. Aside from battle, this would literally allow her to face the parts of herself she doesn't like, and even if she can't come to terms with them at first, at least she will understand.
Notes on LohaG:It is a planet covered in lush greenery and creatures that can fly and sing, as well as small groups of wolves that reside in the lower levels of the forests. From above, the only thing visible is the large expanses of canopy, covered with bright flowers; however, the deeper you go past it, the more dangerous the terrain becomes. This takes direct inspiration from Nausicaa's Toxic Jungle, although it's not invasive (because there's nothing left to invade), and the biggest creatures, while rare, are generally predatory and stay in the lowest reaches of the forest. The closer you get to the ground of this planet, the larger the plants and animals become; it's generally safest to stay above the canopy in the forest. It is mainly populated by songbirds and cricket-like bugs, with the few mammalian creatures being things like the gangs of giant wolves. This world's denizen is the primordial Greek goddess Physis, who sleeps among the roots of the largest plants, so dense they hold her as something akin to both a prison and a sanctuary, reaching out of the walls of her cave to bind her. Across the entire planet's canopy, where the more peaceful creatures live, the most common pastime is to sing. Usually, everyone is humming a song as they attend to whatever duties they need to, and the local belief is that, with everyone singing together, no matter where you are, you will always be able to join in however you like, and will be a crucial part of the "Great Harmony". Most just call it the Harmony now, as the fact that it's such an innate part of life for them has led them to take it as less of a magical, possibly spiritual thing as they once did, and now simply as a fact of life. Altogether, it becomes something very chaotic and complex but fun; the closest Earth parallel I can think of is if a massive choir sang a Black Midi song, and they were scattered everywhere, so no matter what, you will hear it. Even if you have a headache.
Edit: correcting typos