Full Name: Fireti Priroa
Gender: Female
Height: 5 ft. 10 in.
Age: 7 sweeps (15 years)
Physical appearance: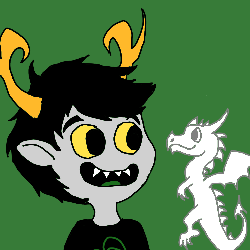 Personality: She likes being alone, and can be a bit shy with trolls she has just met. Once she gets to know a troll though she opens up a lot, and will ramble on and on about whatever pops into her head. (Usually its about dragons, she is obsessed with dragons.) She usually regrets this later because she thinks she was being mean or rude. After interacting with her friends she will dwell on every little thing she said, thinking about how she could have said something better, or been nicer. She cares about each of her friends deeply. She tends to hide her negative emotions, and sometimes when she is alone she talks to herself about them. She is very blunt and honest, and she doesn't understand when people are using sarcasm. She also loves moving fast, and taking risks. She likes the rush of adrenaline. She also loves nature, forests especially.
Handle: tenalachGuardian or TG
Typing Quirk/Color: e=eee, a=3, c=s or k, ch=tsh. She types in dark green.
Ex: I w3s eeexploring reeeseeently, 3nd I found a neeest of dr3gon h3ttshlings! Theeey weeereee so kuteee!
Blood color: olive
Symbol:
Lusus: A small dragon.
Strengths: athletic, very loyal to her friends, good at drawing
Weaknesses: bad social skills, can't understand sarcasm, can be manipulatd easily
Fears/Insecurities: hurting her friends, watching her friends being hurt and being unable to help them, having to leave Alternia when she gets older
Likes/Hobbies: exploring the forest, drawing, dragon watching, flarp, dungeons and dragons(is that a thing on Alternia?)
Dislikes: the letter c, fashion
God Tier Title: Knight of Space
Land: Land of Dragonflies and Frogs (not the bug dragonfly, little dragons with bug wings, and six legs)
Derse or Prospit: Prospit
Strife Specibus: 2xknifekind
Psionic Power: none
Describe your character in three words: awkward, adventurous, creative
If your character were stranded on an island and could only bring two things with them, what would they be?: Her sketchpad and pencils.