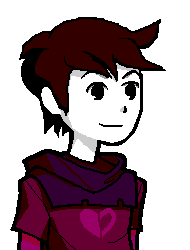 more images:
Full Name
: Aden Whaley
Gender
: Male
Height
: 66.1''
Age
:15
Home
: Just outside of San Fransico in 2032
Physical appearance
: Aden has short, dark brown hair that is messy more often than not, heavy brows, and two piercings on his bottom lip. His natural eye color is green but he wears pink-red eye contacts because, if he's gotta wear something to see, why not make it look fuckin' awesome? His eyeliner game is on point.
Symbol
: The Wall-Tech logo, a W with a circle around it
Personality
: Aden tries to be a chill person most of the time. However, he just feel so many
emotions
so sometimes it's hard to keep it in. He loves his friends to the point of being kinda clingy in relationships. He's also very open-minded and willing to try new things, such as sushi (which is awesome) or listening to oldie music like polka (which is less awesome, but at least he gave it a try!). He'd mildly feminine for a guy but that's pretty normalized where he comes from.
Strengths
: Remaining optimistic, being open-minded and flexible, big imagination, good with tech, independent (in therms of independent thinking and taking care of himself, not emotionally)
Weaknesses
: Doesn't know his own limits, emotionally dependent, his weapons are parts of him (literally once he goes god tier) which makes it much harder and sometimes even painful to fight with them.
Fears/Insecurities
: Aden is afraid that his sister or friends will find something more important in life to do and just leave him in the dust, never to return or remember him again. He's also scared that the friends he
does
have are only there because he's a Whaley and his family has lots of money.
Likes and Hobbies
: The outdoors, different cultures' foods and celebrations, having friends, early 20s (2020s) pop music, gay pride events, survivalist shows
Dislikes
: His parents and their stupid tech company. They're too busy making phones to even pay attention to him and his sister. He
gets
that what they're doing for the world is good, but can't a boy just want to spend time with his family outside of a Wall-Tech press conference?
Handle
:
divergentStriderTyping Style
:
Aden types just like every human to being, that is to say, with no quirk. He tends to use proper grammar and spelling but not ALL the time.Guardian
: His older sister, Andrea. He'd live with his parents but they are too busy running the major tech company Wall-Tech to care. Anyways, he likes being with his sister, when she's not busy with college-related stuff at least. She can't cook and doesn't know how to be a "proper" guardian, but she holds hella good netflix and chill nights.
God Tier Title
: Knight of Heart
Potential Powers
: Forging soul weapons/shields, creating splinters (small splinters simply stretch out his soul, large splinters may develop consciousness similar to floating dirk head or hal), soul-infusing objects (including dead things) with splinters, levitating soul-infused objects, minimal perception and identification of the souls around him (ex. i thought it was you around the corner! your soul just gives off this certain vibe)
Land
: Land of Cathedrals and Smoke. The consorts are adorable teal pugs with tiny wings that probably would never be able to lift them off the ground if it weren't for the game's magic. The land looks almost like Holland, with lush mountains and cathedrals dotting the valleys.
Well, it would, if it weren't for the smoke. Smoke from the denizen Yaldabaoth's lair covers the planet and takes away the will and spirit of the consorts, blocking out the atmosphere's natural light and driving the once happy pugs into depression and conformity. It is Aden's job to face his denizen in order to stop the smoke and bring vibrancy back to the pug society.
Derse or Prospit
: Prospit
Strife Specibus
: SenimentalKind. Basically any weapon that has importance to him. For example, he's got a wooden sword he got from a renaissance fair on his birthday once. When he was younger he would store his pet rocks in there and throw them at people if need be (which, thankfully, rarely happened). The downside to this is that he's overly sensitive of losing his weapons, so he may be more distracted in a fight than someone with weapons they don't really care about.
Once he reaches god teir, Aden is able to form soul weapons or shields, their powers and appearances varying on whose soul they are forged from. When the weapon is damaged the person the weapon came from is also hurt a little bit, so he tends to only forge practical weapons out of his or his enemy's souls.
Describe your character in three words
: Chill on the outside, unchill on the inside, super gay

If your character were stranded on an island and could only bring two things with them, what would they be?
: Bear Grylls. Obviously. He would be able to get them home AND he's hot. I mean, if he was younger, that is.