Racial Name:
Daemon
Nick Names:
Red-skins, Merry Folk, Hellspawns, Red Whores.
Genders?:
Binary genders.
Average Life span:
Daemons usually live from 80-120 years, unless they die from unnatural causes.
General Appearance: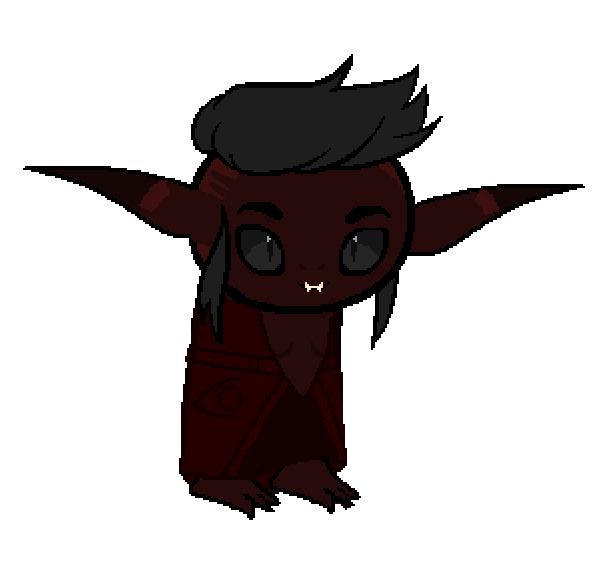 Daemons are a humanoid race with dark red skin as two of their nicknames suggest. They have the same facial features as an average human, except for their ears, teeth, and eyes. A Daemon's ears can range from the size of a hand to arm length, and any less than hand sized is considered abnormal. The Daemon with the largest ears is considered "the alpha". Their teeth usually poke out over their bottom and top lip, and have to be filed down every once in a while to keep them from growing further and stabbing the owner. A Daemon's pupils are slits and black/grey-ish color, the whites a lighter grey. Heights vary, but they can grow to be about 7'5.
Daemon skin is a superconductor for heat, and will heat up extremely fast if the owner is angered or stressed. They can't handle cold temperatures, and will die easily if exposed to them for too long, though their long reddish robes can keep the cold out for small amounts of time. This is not a problem on their desert planet, except for the deeper caves in which they live.
They normally keep their hair well groomed, cutting and styling it boldly. You'll hardly see two Daemon with the same haircut, especially since they'll try and mess the other's up. Despite their intimidating appearance, they're just a bunch of softies.  
Common Personality:
As their OTHER nickname suggests, they're some of the nicest aliens you'll come across, especially if you're a weary traveller.
Daemons are bubbly, happy people who love to drink and talk. Especially talking. They hardly ever miss conversations because of their large ears, and are the biggest gossip gulls out there. Of course, it isn't harmful to anyone. If it was, they wouldn't be the joyful race that they are. Though they are known to harm those who attempt to soil their planet's "beauty", they're rather peaceful.
Society:
The Daemons aren't a very well known race, most visitors scared off by their appearance and general rowdiness, but that doesn't mean they don't have interestingly "advanced" tech. For example, their brewery systems and communication devices. They hardly focus on development though, having pretty much everything they need currently. Wines brewed from the exotic fruits in the forest-y patches on their planet, music, friends, and especially mating. Daemons breed like rabbits.
In their caves, the "Alpha" doesn't really do much. All they do is make improvements and such to the caves, send hunting/gathering parties out, and just tend to relax. Female Daemons tend to flock to the Alphas. The reason why is mostly the fact that big ears are attractive there.
Home Planet:
Aynides is a large desert planet with patches of wooded areas here and there. How the plants and animals manage to survive and thrive there is unknown. The Daemons normally dig their caves around these areas for easier access to food. The climate ranges from the 90s to 100s, and tends to get even hotter than that. Even with the extreme heat, flowers that Daemons smoke in order to calm down continue to grow.
Relationships:
Daemons are normally bisexual with more than one mate. The Daemons that are of age (20 years, anything below is considered taboo.) in a cave system have most likely already mated with another.
Reproduction
Daemon reproduction is similar to human reproduction. Once a female is impregnated, they normally stay in a designated cave for about a year or so with the other pregnant females until they give birth. Until then, other Daemons bring them food and drinks and take care of them. Daemons do give birth to live young who remain in the cave with them for another year or so. It's extremely rare for a female to give birth to more than 2 children in one pregnancy.
Guardians:
Mothers, fathers, brothers, sisters, and everything else.
Symbol Rules: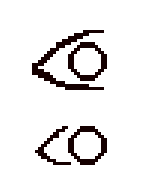 (The symbol of an Alpha, and the symbol of a regular Daemon.)
A Daemon's symbol usually represents their ear size. Please use these as examples.
Naming Conventions:
5x7
Racial powers:
- Strength to match the height.
Attributes:
- Daemons have rudimentary night vision, living in caves for so long.
- They have the sweetest singing voices.
Traits:
- Daemons die easily in the cold.
- Ticklish under the ears. It can also be used to get them in the mood.
IM System:
DesertBabble (XX has began babbling to YY)
Typing rules:
Typing style varies from one Daemon to another.
Other: