Full Name:
Daraki Lasada
Gender:
Female
Height:
5'7
Age:
7 sweeps.
Physical appearance: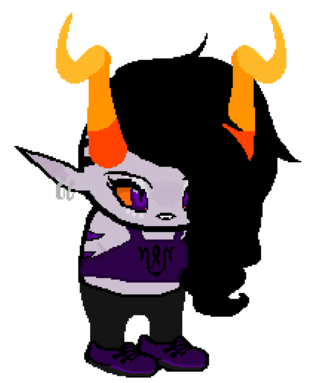 Personality:
Daraki is a strict dance teacher who will bash anyone's teeth in if they get their footing wrong. Despite her young age, she's a sassy ghetto troll who don't take shit from nobody. She cares more about piercings and whipping her students into shape than quadrants, and she'd even go so far to say friendships. Although, sometimes you can strike up a conversation with her if she's in a good mood and not have your horns broken. She's also a little.. Muscly, if you couldn't tell already. Dancing is a great workout, but she also lifts weights on the side in her spare time. A little overcooked, but stupidly strong with highblood genetics mixed with hours of working out.
Handle:
ambituousDancer
Typing Quirk/Color:
Daraki types in #39005c and uses grammar most of the time. Unless she's angered of course. In that case, she uses capital letters and separates words with a clapping emoji, often making typos.
Blood color:
Grape.
Symbol:
Include a picture if possible.
Lusus:
Gazellemom.
Strengths:
Crushing intimidation, crushing muscles, and crushing thighs.
Weaknesses:
She's practically heartless, has somewhat severe anger issues, and can get cocky at times.
Fears/Insecurities:
Losing her lusus.
Likes/Hobbies:
Of course dancing, working out, and surprisingly enough, drawing.
Dislikes:
Having to deal with the failures in her class.
God Tier Title:
Prince of Rage
Land:
Land of Mountains and Stars
Derse or Prospit:
Derse
Strife Specibus:
2xgauntletKind
Psionic Power:
None.
Describe your character in three words:
Sassy ghetto troll.
If your character were stranded on an island and could only bring two things with them, what would they be?:
Her set of weights and a radio.
Other:
dumb sprite i made of daraki:

~₪~₪~₪~₪~₪~₪~₪~₪~₪~₪~₪~₪~₪~₪~₪~₪~₪~₪~₪~₪~₪~₪~₪~₪~₪~₪~