Full Name:
Seiren Ibucus
Gender:
Female
Height:
5'8
Age:
7 sweeps.
Physical appearance: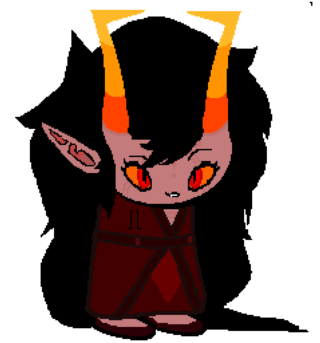 Personality:
Seiren is a mischievous witch who has camped out in the forests of Alternia all her life. Camped out is an understatement. She thrives in the woods in the hive she built underneath the roots of a large tree. You could say she's lost a few of her marbles making blood sacrifices in there and feeding any troll who wanders in to her lusus. Just to be safe.
Handle:
wrathfulSorceress
Typing Quirk/Color:
Doubles up L's, and types in her blood color.
Blood color:
Mutant red in hiding.
Symbol:
Lusus:
A gigantic crow who nests at the top of her tree.
Strengths:
"Advanced" in witchcraft, and cunning to an extent.
Weaknesses:
Heavy sleeper, not strong in physical combat.
Fears/Insecurities:
Since she is a mutant, being found by drones or some other imperial force.
Likes/Hobbies:
Brewing, reading, and watching her lusus fly around.
Dislikes:
Being in hiding for her
entire life.
God Tier Title:
Witch of Blood
Land:
Land of Books and Candles
Derse or Prospit:
Derse
Strife Specibus:
stickKind
Psionic Power:
"Advanced" witchcraft. Ex; telekinesis. Using it on larger objects or for extended amounts of time do drain her energy. Another; Summoning objects smaller than your average cellphone. She can't just create things out of thin air, though. The object being summoned must already be in existence.
Describe your character in three words:
The lowkey mutant.
If your character were stranded on an island and could only bring two things with them, what would they be?:
Her lusus to get off the island, and a book for the ride back.
Other:

~₪~₪~₪~₪~₪~₪~₪~₪~₪~₪~₪~₪~₪~₪~₪~₪~₪~₪~₪~₪~₪~₪~₪~₪~₪~₪~