Full Name:
Cattah Pillia
Gender:
Male
Height:
5'5, he hasn't hit his grown spurt yet.
Age:
7 sweeps.
Physical appearance:
Cattah doesn't look anything like your regular purple blooded freak. He wears a large black fur coat lined with neon pink and purple fur. The sleeves have three stripes reaching around them just above the fur. There are two pockets on each side of the front, and the coat is never done up. Underneath, he wears a blue and black striped shirt with a blue tie, as well as purple pants tucked into his tall leather boots. Above all of his clothes, he wears a black satchel to carry around his blue and purple designed hookah pipe, symbol sewn onto it. Cattah's hair is the normal black, fading into purple at the ends. It's constantly styled neatly, his horns poking out. His horns are pretty much two 8's on the top of his head. The first thing you'll notice about him is his toothy smile.
Personality:
Cattah is extremely flirty and sweet when you first meet him, and is a very charismatic troll. That's why his Alice in Wonderland themed club is so popular. Though, he can get a little snooty here and there if you say something he doesn't quite agree with. For a purple blood, he isn't violent at all. A rather happy and bubbly fellow, actually. He'd rather make love, not war, of you know what I mean.
Handle:
smokyCaterpillar
Typing Quirk/Color:
Cattah types in #2b0057 and uses perfect grammar. He doubles up his o's, and uses ;) a lot.
Blood color:
Purple.
Symbol: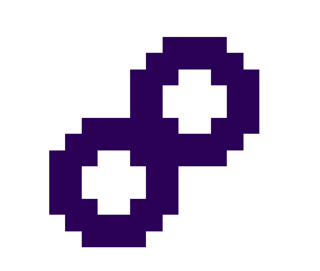 Lusus:
A giant caterpillar.
Strengths:
As a purple blood, he's very strong. Cattah has a way with words, and sure knows how to woo a troll.
Weaknesses:
Self centered most of the time. Easy to sneak up on, and is always taking a smoke break.
Fears/Insecurities:
His pipe breaking.
Likes/Hobbies:
Chatting it up with another certain purple blooded troll, and painting. Fun fact, he painted all the art in his club.
Dislikes:
Silence and being alone.
God Tier Title:
Rogue of Light
Land:
Land of Mirrors and Music
Derse or Prospit:
Derse
Strife Specibus:
clubKind
Psionic Power:
Powerful chucklevoodoos that can cause odd hallucinations.
Describe your character in three words:
Pass the hookah.
If your character were stranded on an island and could only bring two things with them, what would they be?:
His grubphone and a chair.
Other: