Full Name:
Dick Mulkins
Gender:
Male
Height:
5ft 1in
Age:
13
Physical appearance: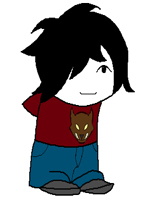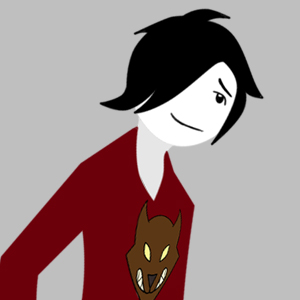 Personality:
While on the outside Dick looks like your average teenager, be prepared to be surprised, 'cause he's full of quirks and a weird fascination towards the wolf specie. He'll often joke about being a werewolf himself, but all in good play.
On full Moons he's known to act like a wolf and make a mess out of his room.
Ironically, he's known to be a lone wolf and not have many friends around the place, he prefers to visit the interwebs and talk there with other people be it in forums or any other social media
Handle:
LunarGynophiliac
Typing Style:
Normal. May use ALL CAPS when in excitement or anger burst
Eye color:
Black
Symbol:
Wolf
Guardian:
Mother
Strengths:
Emotional connection. He's not a psychologist himself, but somehow knows how a person is feeling and manages to connect easily with them, helping them heal if hurt, or give some cheering where needed.
Weaknesses:
Temperamental. While not often, Dick is known to burst into anger frenzies when pushed.
Fears/Insecurities:
He's afraid of himself and the damage he could do to others in his rage attacks
Likes and Hobbies:
He likes wolves and enjoys pretending to be one. He also enjoys videogames, especially the fighting ones.
Dislikes:
Disloyalty. Also Needles. He hates needles and getting shot.
God Tier Title:
Sylph of Heart
Land:
Land of Memories and Needles
Derse or Prospit:
Derse Dreamer
Strife Specibus:
Clawkind and Fangkind
Describe your character in three words:
Quirky Big-hearted Werewolf
If your character were stranded on an island and could only bring two things with them, what would they be?:
His favorite t-shirt and a water bottle
Other:
While Dick is known to be there for others, he doesn't like talking about his emotions or problems much, since he feels his anger issues shouldn't be talked about. Non ironically, this only makes his anger get repressed and come out in small bursts of anger/depression.