Full Name:
Quil Moran
Gender:
Male
Height:
5'11"  189 lbs.
Age:
16
Physical appearance: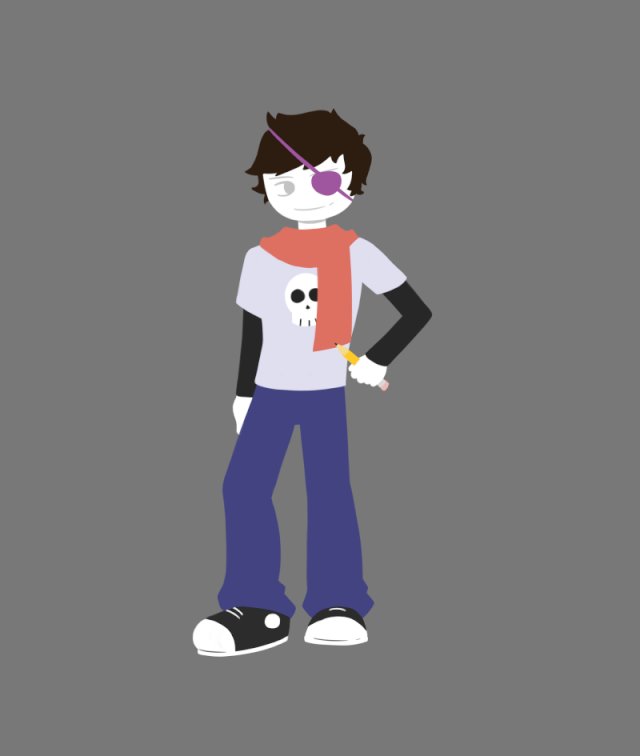 ((Art by me))
The eye patch is part of a cosplay he's been working on. He does not have it on the entire time.
Personality:
Quil is persistent when he needs to achieve something. He is manipulative when he needs to be, specifically when something is threatening his goals. He is often optimistic and hopeful. He can be considered a team player, since he usually does things in order to help the team's success and is careful to avoid failure. Quil also shows a very artistic side which can be seen in his many cosplays and art pieces. He puts lots of love and effort into his work, but often doubts his skills due to his own insecurities.
Handle:
tenaciousWarrior
Typing Style:
- Often uses "lmao", "rip" or other online acronyms as punctuation.
- Sometimes shortens words.
- Uses no capitalization.
(Ex. "are you srs lol")
Text color:
#663366
Eye color:
#993366
Symbol:
A white, cartoony skull.
Guardian:
His father. He often isolates himself in his study when not working.
Strengths:
- In times of despair, Quil can continue to look positive and optimistic, even when he himself carries doubt, to help with team moral.
- Quil is annoyingly persistant, never giving up until the very end.
- He can be passionate and caring towards team members, in a co-op game for example, in order to succeed or complete his goals.
Weaknesses:
- While his persistance can be considered a strength, it can also be a weakness of his. He never knows when to give up which can cause him to hurt himself.
- In some cases Quil can be very reckless, often not thinking about his choices.
- His refusal to follow strict rules or responsibilites can cause consequences toward himself or others.
- In a bind, Quil won't stop at nothing in order to win or succeed. He may even attempt to throw others under the bus.
Fears/Insecurities:
He often doubts his artistic and costume skills which drives him to try better each time and is fairly worried about failure which is why he tries so hard to succeed. He fears the 'voices' in his head that speak of enevitable doom and failure. They are usually not very prominent, but still put him on edge whenever they happen.
Likes and Hobbies:
Venturing out in the forrest, spending time alone, and reading comics in his spare time. His hobbies include cosplay, drawing, playing DnD and other various roleplaying games, and solving puzzles.
Dislikes:
Limits and being restricted by them, being told he can't do something, failing to solve something.
God Tier Title:
Prince of Doom
Land:
Land of Death and Labyrinths
Derse or Prospit:
Derse
Strife Specibus:
Penkind, Pencilkind, and Staffkind
Fetch Modus:
Sketchbook: Draw the item to captchalogue it. Draw again to extract.
Describe your character in three words:
What a nerd.
If your character were stranded on an island and could only bring two things with them, what would they be?:
A sketchbook and a pencil.