Full Name:
Atgeva Unukal
Gender:
Female
Height & Weight:
5'3'', 112 lbs
Birthdate:
May 14th, because troll years are weird.
Age:
7 Sweeps
Physical appearance: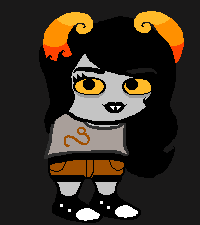 long-haired, short, wide-eyed and blessed with a really useless set of fangs. basic outfit is a large grey sweater with her symbol emblazed in brown with simple black pants and canvas shoes. sometimes has hair dyed a pastel shade of her blood.(a new sprite is under production with this outfit.) alt. outfit is shown, with a greyish crop top and high-waisted shorts along with canvas shoes
tall horns that curl towards the center like antennae (or snake tails) frizzy hair that parts to the side, covering a bit of her face, dark bags tinted brown, sprite ALWAYS has
eyebrows
,has a sort of forked tongue,occasionally pulls strife discs out of hair, darker patches on arms and legs (not freckles, more like scars)
Personality:
can be childish and rude, but generally knows when to be serious. generally saccharine to all. likes shipping to a degree, but clueless to most topics on the more red end. her kind and understanding nature tends to lead to some weird pale fluctuations. tend to take charge despite her shortcomings, focusing to the larger goal more than the little ones en route which can cause some heated arguments. sympathetic to ghosts, appreciates fashion a bit, but not too much
Handle:
extrinsicEmpathetic
Typing Quirk:
EE: Ju5t fucked up, 4lw4y5, 4ll the t1me 4nd w1th hell4 sl4ng 4nd over4ll r4mbl1ng 4nd
oh my god 1 c4n't 5hut up.
, uses emotes like (:y) and (:c) and (c:), which all represent snake faces.
Blood color:
Brown
Symbol:

Lusus:
A very nice slitherbeast who happens to be big enough to wrap herself around Atgeva's hive a few times
Strengths:
Modest, supportive, kind to most, creative and a good leader
Weaknesses:
Can feel insignificant or without purpose, sometimes spiteful or sarcastic
Fears/Insecurities:
Failure, dying and rejection
Likes:
Writing, drawing, plants, communing with her lusus, aliens, memes
Dislikes:
Manipulation, casteism and feeling powerless
Driving force:
Keeping everything together
Hobbies:
desperately trying to not kill cactuses and putting up with her friend's bullshit also troll cartoons
God Tier Title:
Sylph of Space
Land:
Land of Lush Grass and Riverbanks
Derse or Prospit:
Prospit
Strife Specibus:
Disckind
Psionic Power:
Able to cOMMUNE,,, but is kind of sucky at it
Describe your character in three words:
Kind of naive
If your character were stranded on an island and could only bring two things with them, what would they be?:
A sailboat and a umbrella
If your character could change anything about themselves, what would they change?:
her awkwardness probably
Your character opens their fridge; what do they see?:
it's just full of cola. it's falling onto the floor. the room is filling with it, for god's sake, close the fucking door
Other:
EE: 5o you're 54y1ng 1'm...'emo trash'?