Full Name:
Anna Panchell
Gender:
Female
Height & Weight:
5'4 ft | 126 lb
Birthdate:
February 2nd
Age:
15 (may change depending on RP)
Physical appearance:
Anna's hair is wild, short and styled in every direction, accompanied by a blue bow. Her body shape is slim from basically never eating any sugary or fating foods. The fact she never plays sports and doesn't exercise much doesn't help. Due to this, her body does not have much muscle and she is not very psychically strong. She sports blue lipstick with matching blue eyes. Anna dons a blue buttoned-up coat with a light teal shirt underneath. She also dresses with long black pants, grey dress shoes and tiny rounded glasses. More psychical traits include: slightly under average skin tone, somewhat long eyelashes, and a heart-shaped face type.
Personality:
Anna considers herself stylish and sophisticated, often using words much larger or complex than simple words she could just as easily say. (examples will be under typing style). She tries to act as mature as possible at all times and will never cheat, goof off or break any rules no matter what. Despite her seeming like she has no sense of humor, from time to time she may tell wisecracks or mess with people's heads with riddles or confusing jokes. Anna may tend to be too generous, often sacrificing her health for her friends (see other) and causing herself psychical pain. She is also a vegetarian and disgusted by meat whether raw or cooked. Anna hates being the center of attention and would make a horrible leader being as she strictly follows rules and would need someone to direct her (a time player would be best). Anna, in an attempt to be seen more mature (and to earn her uncles respect), studied medicine at a young age and became fascinated by it. Needless to say she grew up wanting to join the medical career.
Handle:
exemplaryPractitioner (0099cc)
Typing Style:
Anna shows above average skills in grammar and may use more lengthy words than necessary. She
thinks
these words make her sound sophisticated. When angered, stressed or tired she may stop using complex words, stumble and also may greatly increase the number of unnecessary words in each sentence
Examples:
EP: Oh why yes. I am simply cachinnating right now. And that's sarcasm there, sweetheart. ('Sassy'/Humorous)
EP: Y-yeah...? Well... Uh... You're a jerk! (Angered)
EP: Well I suppose I do find you slightly... pulchritudinous...? (Embarrassed/A tad flirty? ;] )
Symbol:
A generic blue and red pill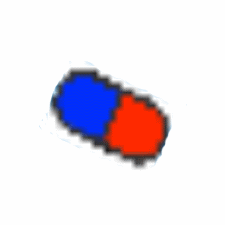 Guardian:
An uncle named Alex whom is almost never home.
Strengths:
Possesses a high attention span, is an adequate medic, and has excellent intellect.
Weaknesses:
Poor psychical strength, plays fair no matter what, can be a little too generous to the point of sacrificing herself, predictable.
Fears/Insecurities:
Being taken advantage of, Not being good enough to save her friends.
Likes:
Healthy food, Her uncle, games of any sort, sounding sophisticated.
Dislikes:
Stubbornness, rule breaking, meat, any killing what so-ever, being the center of attention.
Driving force:
To help out her friends and to make everyone's life a little better.
Hobbies:
Reading, scrap booking, medicine.
God Tier Title:
Sylph Of Doom
Land:
Land of Magnets and Moths aka LoMaM
Derse or Prospit:
Derse
Strife Specibus:
StapleKind (Staple guns ftw)
Describe your character in three words:
Law-abiding, "sophisticated" vegetarian.
If your character were stranded on an island and could only bring two things with them, what would they be?:
A first aid kit and a weapon of some sort
If your character could change anything about themselves, what would they change?:
To be more independent and fearless.
Your character opens their fridge; what do they see?:
No sugary foods, mostly fruits and veggies.
Other:
When god-tiered she can heal others by taking some of their pain. She might be able to revive someone but it would send her through A LOT of pain and possibly kill her if she attempts to resurrect them without any injuries. So she would have to revive someone with a few broken bones and cuts. For instance, she could restore a blind man's sight but her eyes would become much less perceptive. Or she could wake someone from a coma but she might fall asleep for a shorter amount of time. If someone had a coma time of five weeks and she used her powers to wake them up, her coma would last about only one or two weeks.
Her powers would also include being able to heal the limits on others, so if someone's powers were acting up, she would be able to limit them back down to normal levels (depending on how unstable said powers are).