Full Name:
Praise Teasie
Gender:
Male
Height & Weight:
5'11 6 Stone
Birthdate:
25th October
Age:
9 Sweeps (16-ish?)
Physical appearance:
Praise is a decent looking person. He's quite tall.
His hair is quite messy as if he doesn't brush it down. His horns are similar to that of a mosquito's mouth. A point, They're quite long, with a slight little change from Banter's, it grows slightly outwards on one of the horns. He wears the ordinary black shirt of a troll under his cerulean coat. He wears short shorts with cerulean trainers. He looks young for his age, with very blunt fangs.
Personality:
Praise is a very timid cowardly person, as such he remains silent for most of the time, if he talks its usually for an important reason. He is quite friendly, however and usually attempts to please those around him. Unlike Banter, he can be quite polite and doesn't judge a book by its cover, even if its a horrible cover made with the skin of dead lusi.
Handle:
carefullyTold
Typing Quirk/Color:
He barely talks, as such he doesn't really have a typing quirk. If he does use pesterchum however he just puts some emoticons, example:
NS: Look, you're a sh!thead- y'know?
CT: ... ;(
Blood color:
Cerulean #336699
Symbol:
The same as Banter.
Lusus:
Giant Mosquito
Strengths:
Amazing artist, very fast
Weaknesses:
Timid, cowardly
Fears/Insecurities:
He's scared of Alternian trolls. He's insecure about the quality of his art.
Likes:
Art, Friendly people, cheese
Dislikes:
Greediness, loud-people, Alternians.
Driving force:
To become an amazing artist.
Hobbies:
Creating amazing works of art.
God Tier Title:
Heir of Space
Land:
The Land of Graffiti and Frogs [LOGAF]
Derse or Prospit:
Derse
Strife Specibus:
aerosolKind
Psionic Power
The power of not having a power!
Describe your character in three words:
Silent Graffiti Artist
If your character were stranded on an island and could only bring two things with them, what would they be?:
His paint and a wall.
If your character could change anything about themselves, what would they change?:
Not much, really. He quite likes himself the way he is.
Your character opens their fridge; what do they see?:
He has no fridge, but if you look at the wall where it would be there is a painting of a fridge.
Other: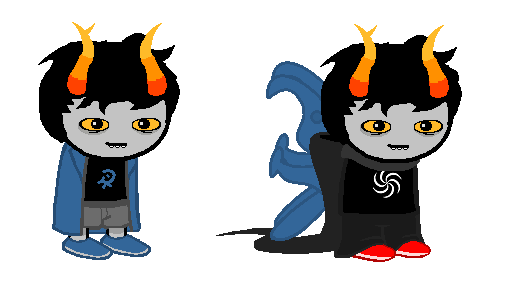 The Land of Graffiti and Frogs [LOGAF]
This land is absolutely covered in graffiti as the imps on the planet seem absolutely OBSESSED with it. The friendly consorts attempt to clean it up, but to no avail. The forge has been painted to look like a giant vase, the quest bed has been painted to look like a spintop. Its generally a very colourful planet!
Aerosolsprite
A class example of how you can't paint a kernelsprite. This sprite is a giant aerosol can. The imps in a session with this sprite end up with Aeosol cans for hands.